Can UK win the SEC East?  That question is certainly being asked a little bit more by the fanbase this week and why shouldn't we?  If you watched the game on Saturday, it's hard to imagine the Cats not being able to compete in every game for the remainder of the season, including Georgia.  And if UK can get through South Carolina and Texas A&M unscathed, or even with 1 loss, then suddenly the path becomes somewhat clear.  Just look at the following scenario and tell me why this can't happen:
Week 5
Kentucky (3-0) over South Carolina (1-2)
Georgia (3-0) over Tennessee (0-2)
Mississippi State over Florida (1-2)
Week 6
Texas A&M over Kentucky (3-1)
Georgia (4-0) over Vanderbilt (0-2)
LSU over Florida (1-3)
South Carolina (2-2) over Missouri (0-2)
Week 7
Alabama over Missouri (0-3)
LSU over Georgia (4-1)
Auburn over Tennessee (0-3)
South Carolina (3-2) over Texas A&M
Week 8
Kentucky (4-1) over Vanderbilt (0-3)
Week 9
Missouri over Kentucky (4-2)
Georgia (5-1) over Florida
South Carolina (4-2) over Tennessee
Week 10
Kentucky (5-2) over Georgia (5-2)
Ole Miss over South Carolina (4-3)
Week 11
Kentucky (6-2) over Tennessee
Georgia (6-2) over Auburn
What's great about this plausible scenario is that I am just giving you ONE way how UK could make it.  Consider this:
-UK could lose to Georgia but beat Missouri OR Texas A&M and win the East
-Georgia could lose to Auburn and Kentucky could still lose to both Mizzou and A&M and beat Georgia
-If UK beats both Mizzou and A&M they could likely lose to UGA and still make it
All of the sudden, the realistic possibilities are there.  It does require Georgia dropping that game at LSU and if they don't, the road becomes much more difficult and will likely require 7 SEC wins, but if the Tigers can pull that one out, things get very interesting.
Good morning, friends, and welcome to the Wednesday edition of Kentucky Sports Radio. Today, the gang will discuss Kentucky's game vs. South Carolina, which is inching closer to a sellout, Big Blue Madness Campout beginning, and why it's rude to bother people while they eat. Something tells me there's a story coming with that last one.
Join in on the fun by calling (502) 571-1080 or send a text to the KSR Texting Machine at (859) 300-3264.
MARKET
CALL LETTERS
DIAL
TIME
Ashland
WCMI
93.3 FM T
LIVE
Ashland
WCMI
1340 AM
LIVE
Benton
WCBL
1290 AM
LIVE
Bowling Green
WBGN
1340 AM
LIVE
Bowling Green
WBGN
107.9 FM T
LIVE
Campbellsville
WTCO
1450 AM
LIVE
Columbia
WAIN
1270 AM
LIVE
Cynthiana
WCYN
102.3 FM
LIVE
Danville
WHIR
1230 AM
LIVE
Elizabethtown
WIEL
1400 AM
LIVE
Elizabethtown
WIEL
106.1 FM T
LIVE
Henderson/Evansville
WREF
97.7 FM
LIVE
Glasgow
WCLU
1490 AM
LIVE
Grayson
WGOH
1340 AM
LIVE
Grayson
WGOH
100.9 FM T
LIVE
Greenup/Ashland
WLGC
105.7 FM
LIVE
Harlan
WTUK
105.1 FM
LIVE
Hopkinsville
WHOP
1230 AM
LIVE
Hopkinsville
WHOP
95.3 FM T
LIVE
Irvine
WIRV
1550 AM
LIVE
Jamestown
WJKY
1060 AM
LIVE
Lancaster
WZXI
1280 AM
5-7 PM
Lancaster/Stanford
WZXI
95.5 FM T
5-7 PM
Leitchfield
WMTL
870 AM
10A-12N CST
Lexington
WLAP
630 AM
LIVE
London
WFTG
1400 AM
LIVE
London
WFTG
106.9 FM T
LIVE
Louisville
WKJK
1080 AM
LIVE
Madisonville
WFMW
730 AM
LIVE
Madisonville
WFMW
94.9 FM T
LIVE
Manchester
WXXL
1450 AM
LIVE
Maysville
WFTM
1240 AM
LIVE
McKee-Booneville
Peoples Rural Telephone
Cable TV Channel 209
LIVE
Monticello
WKYM
101.7 FM
LIVE
Morganfield
WUCO
1550 AM
LIVE
Morganfield
WUCO
98.5 FM T
LIVE
Murray
WNBS
1340 AM
LIVE
Owensboro
WLME
102.7 FM
LIVE
Paducah
WPAD
1560 AM
LIVE
Paducah
WPAD
99.5 FM T
LIVE
Paintsville
WKYH
600 AM
LIVE
Pikeville
WLSI
900 AM
LIVE
Pikeville
WLSI
95.9 FM T
LIVE
Prestonsburg
WPRT
960 AM
LIVE
Prestonsburg
WPRT
104.5 FM T
LIVE
Somerset
WSFC
1240 AM
LIVE
Whitesburg
WTCW
920 AM
LIVE
Whitesburg
WTCW
95.1 FM T
LIVE
Whitley City
WHAY
98.3 FM
LIVE
Williamson, WV
WBTH
1400 AM
LIVE
Williamson, WV
WBTH
102.5 FM T
LIVE
50 Radio Affiliates
37 Markets
1 TV/Cable Affiliate
*Affiliates subject to change without notice
Good news, BBN: only single tickets remain for Kentucky's game vs. South Carolina at Kroger Field Saturday night. Look how empty the ticket map is on Ticketmaster:
As you can see, there are still some verified resale tickets available (shown in pink) if you'd like to go to the game with a friend, or you can snag a single (blue). Secure your spot at UKFootballTix.com before it's too late.
Students, there are less than 300 student tickets left for the game, so claim yours through the UK Athletics app before they're gone. Let's make this a sellout.
The KSR Shop and Kentucky Branded are here to get you game day ready for Saturday.  They are celebrating the football team's entrance into the top 25 with a flash sale.
Head to ShopKSR.com to receive 25% off! Stock up on KSR gear, UK sweatshirts, tees, and more. Go Cats.
[FLASH SALE: 25% off at the KSR Shop]
Guess what day it is! Do people still do that? I haven't seen the commercial in quite sometime, but I was always OK with it.
Anyways, it's Wednesday. Wednesday. The Big Blue Madness campout is underway and you can check out some videos and pictures of the madness before the madness this morning by clicking HERE. The campers started lining up to lineup on Tuesday and they made the not-so-mad dash across Avenue of Champions at 5 a.m. this morning.
We're halfway to another Caturday and another big weekend it will be for the Cats. Today Kentucky continues to prepare for South Carolina. It's a defensive day so we'll hear from that side of the ball but for the third straight day we'll also hear from Mark Stoops. He will be making his weekly appearance on the SEC teleconference.
It's another huge opportunity for the football team, but it will be another big weekend for the future of John Calipari's basketball team. The Cats will host two five-star visitors this weekend and if today is anything like yesterday we should expect more visit news or cut lists.
Defensive day:
We'll hear from defensive coordinator Matt House and select defensive players today. We'll likely get Josh Allen's opinion on DraftJosh41llen.com, which is cool. Also, speaking of cool, have you actually clicked on the website and checked it out? It's well done.
Speaking of Allen, did you see that USA Today's 2019 Mock Draft had Allen going No. 11? That would be spectacular for Allen and future UK recruiting efforts. With the way Allen's season going I don't see any reason why he couldn't jump into the top 10.
Although let's cool it with badass players going to the NFC North. My guy Aaron Rodgers is hanging on by a thread.
Today may be the last day to buy UK Football tickets:
Seriously. If you plan on being at Kroger Field on Saturday you may only have one day left to buy your tickets. UK is closing in on a sellout and if you want to watch undefeated Kentucky try and knockoff South Carolina for a fifth straight season you need to hurry.
LAST CALL! Only a limited number of seats remain for @UKFootball's game vs. South Carolina.

Take advantage of the offer below today! New users will receive a $10 credit towards their first Kentucky Wildcats ReplyBuy text purchase! ?? https://t.co/vyFYOYBZDl

— UK Ticket Office (@UKTix) September 25, 2018
Let's hope Wandale is there:
Because he won't be there next weekend. Well, UK won't be playing a home game next weekend, but four-star Kentuckian Wandale Robinson announced he will take his last official visit to Ohio State the first weekend in October.
That means no official visit to Lexington. It would have made a good chunk of the BBN feel better about the Cats' chances had Robinson allowed UK to pay for a weekend in Lexington, but logic wins out here. He lives 25 miles from UK's campus and there was no need to waste an official visit on a place so close.
It seems like it may be an uphill climb for UK to land Robinson, but if he were to visit Kentucky this weekend for the South Carolina game it would only help UK's chances. He's still eyeing a late October decision.
UPDATE- Derek Terry of CatsPause.com is reporting that Wandale Robinson will unofficially visit UK this weekend. SCORE!
Busy Tuesday in recruiting:
Kentucky made the top six for five-star wing Keion Brooks. UK also offered 2020 wing Jalen Johnson
This comes after Monday's news of the Cats' making Jaden McDaniels final five and Isaiah Stewart announcing he will officially visit UK this weekend.
Stewart and Oscar Tshiebwe are two elite bigs in the class of 2019, so this is an important weekend for UK basketball recruiting.
We'll definitely be talking about all this on a new episode of Hardly Committed today.
Don't go rushing the field:
Tshiebwe and Stewart, enjoy Lexington but don't go rushing the field if UK beats South Carolina on Saturday. The Cats were fined $100,000 by the SEC after a hundred or so fans jumped onto Kroger Field after Saturday's win against Mississippi State.
Next one is $250,000, so we probably need to chill. Or wait until the Georgia game. That works, too.
There they are:
I'm happy we're all still in football mode, but basketball season is coming. The Cats took their first team picture in their beautiful checkerboard uniforms on Tuesday and it looks like another special group.
Is P.J. Washington shrinking? Sophomore Nick Richards looks good. Tyler Herro seemingly continues to grow. And the sleeves are BACK. Six players are wearing shooting sleeves in the pictures. Will that be a thing this season? Kentucky fans don't disappoint. In a year where the Cats may be the favorite to win it all the conversation over the last month has been strictly football.
It left some of us wondering exactly how the Big Blue Madness campout would look in 2018, especially considering the limited space surrounding Memorial Coliseum.
Well, it looked similar to years past. You folks are crazy. Tent City was filled on Wednesday in 15 minutes.
#BBN is ready for the #BBM18 campout. Less than 10 minutes until it begins. pic.twitter.com/Y43iMzUcxv

— Kentucky Basketball (@KentuckyMBB) September 26, 2018
A few years ago a young girl suffered a broken arm when running to claim her spot at the Big Blue Madness campout and since that accident they have asked fans to be more orderly crossing Avenue of Champions. Instead of an all-out-dash, it's a slow walk that eventually leads to shorter sprint.
On Wednesday morning it was still the same old madness.
The Madness has begun. The #BBM18 campout is officially open. pic.twitter.com/sKxwsDeSX4

— Kentucky Basketball (@KentuckyMBB) September 26, 2018
So, students living on campus and UK employees, you'll have some new neighbors for the next couple days. The space is more limited than previous seasons, but it still looks like tents will nearly be on top of one another as fans anxiously await receiving tickets to Big Blue Madness, which will take place on October 12th.
We'd love to see your pictures from Tent City and share your experiences over the next couple days with us. I know some people think that the Big Blue Madness campout had run its course, but I really enjoy it. It's something specifically unique to Kentucky to and it probably hasn't made or broken a basketball recruitment, but it's always something cool for recruits and their families to see/hear about.
Is there any other school that has grown adults, kids and students campout for a practice? I didn't think so. Even as space becomes more limited I hope UK continues to allow a Big Blue Madness campout as long as fans continue to show.
It's a #BBN thing. You have to be one of us to understand. ?#BBM18 #TentCity pic.twitter.com/x1q6MxVXVU

— Kentucky Basketball (@KentuckyMBB) September 26, 2018 College football writer Bill Connelly released his S&P+ rankings through four weeks of the college football season and the numbers present some crazy optimism for your University of Kentucky Wildcats.
But before we get to the Cat-specific numbers, let's catch you up on what the S&P+ rankings are and how they're calculated.
The short version: Connelly uses the Five Factors of college football — efficiency, explosiveness, field position, finishing drives and turnovers — from the play-by-play and drive data from every single game, adjusted for opponent difficulty. (It's like thousands and thousands and thousands of plays that go into this.) He then mixes it all up with a bunch of math and produces one of the most trusted ratings systems in the game.
OK now that we have that out of the way, let's talk about Kentucky.
According to the updated S&P+ ratings, Kentucky has an 18 percent chance of going 11-1 or better this year. ELEVEN GAMES PEOPLE!!!! Like Bill said, "Hold your loved ones tight while you can, friends."
One last thing: KENTUCKY'S GOT AN 18% CHANCE OF GOING 11-1 OR BETTER. Hold your loved ones tight while you can, friends. pic.twitter.com/nmbB5m09p4

— Bill Connelly (@SBN_BillC) September 25, 2018
You can see Kentucky's advanced statistics profile here.
ELEVEN AND ONE????
Three seasons in to his college career, the rest of the nation is finally catching on to what Kentucky fans have known since his first game as a Wildcat: Benny Snell is a star.
Snell's four-touchdown performance vs. Mississippi State announced him on the national stage, prompting Kentucky to launch his Heisman campaign and pundits across the country to finally sit up and take notice. Between his hard-running style, chip on the shoulder, and mega-watt smile, Benny is the perfect face of Kentucky Football's rise, and his story gets even better when you remember how many schools passed on him as a recruit.
In honor of Benny's big week, let's open up the KSR Archives to reflect on his journey.
2015
February 23, 2015: 3-Star RB Benny Snell commits to Kentucky
The three-star prospect from Westerville, Ohio had offers from Kentucky, Boston College, Iowa, Ohio, Cincinnati, Miami (OH), and Toledo and was considered a top 50 running back in the 2016 class. He had some interest from major programs like Ohio State and Michigan State, but nothing substantial.
"His offer sheet may not seem impressive, but if we've learned anything in the past few years, it's to trust Mark Stoops and Vince Marrow with kids from Ohio," I wrote in the post announcing his commitment.
AJ Rose also committed to Kentucky that day, setting up the backfield of the future. At the time, it seemed like a consolation prize for missing out on Damien Harris, who committed to Alabama a month prior.
July 17, 2015: Friday Night Blue Lights Camp
That summer, Benny and fellow 2016 commits Dakota Holtzclaw, Kash Daniel, Landon Young and Gunnar Hoak all attended Kentucky's Friday Night Blue Lights camp at Commonwealth Stadium: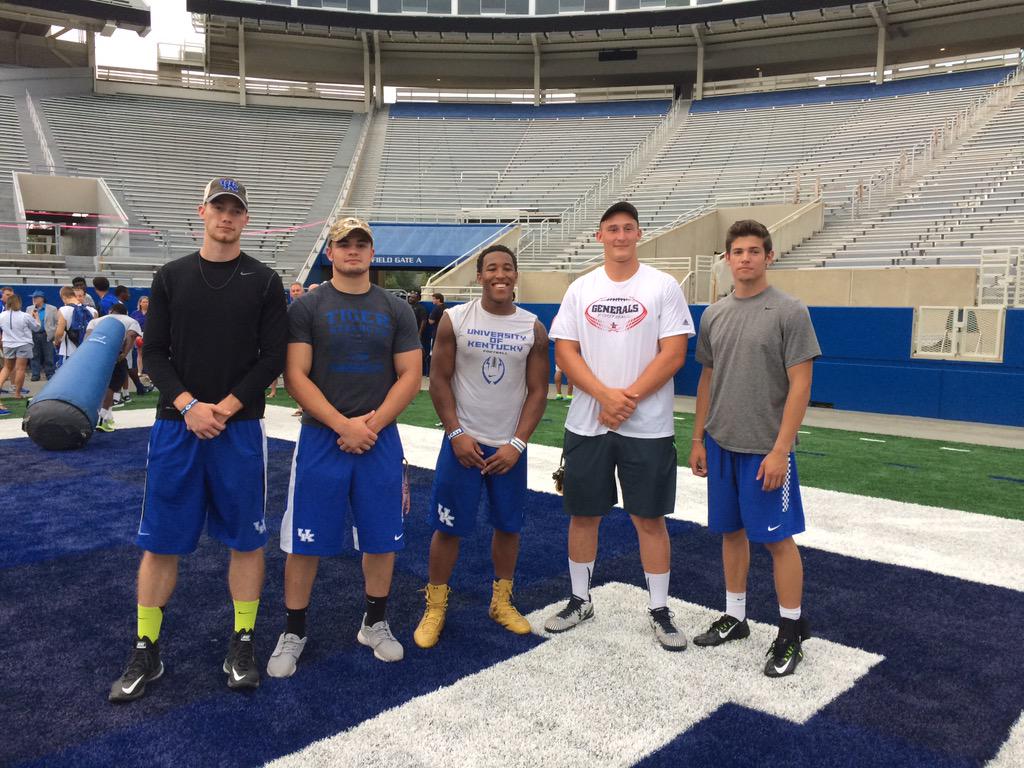 Man, remember Dakota Holtzclaw?
August 28, 2015: Benny and Gunnar make the front page of "The Columbus Dispatch"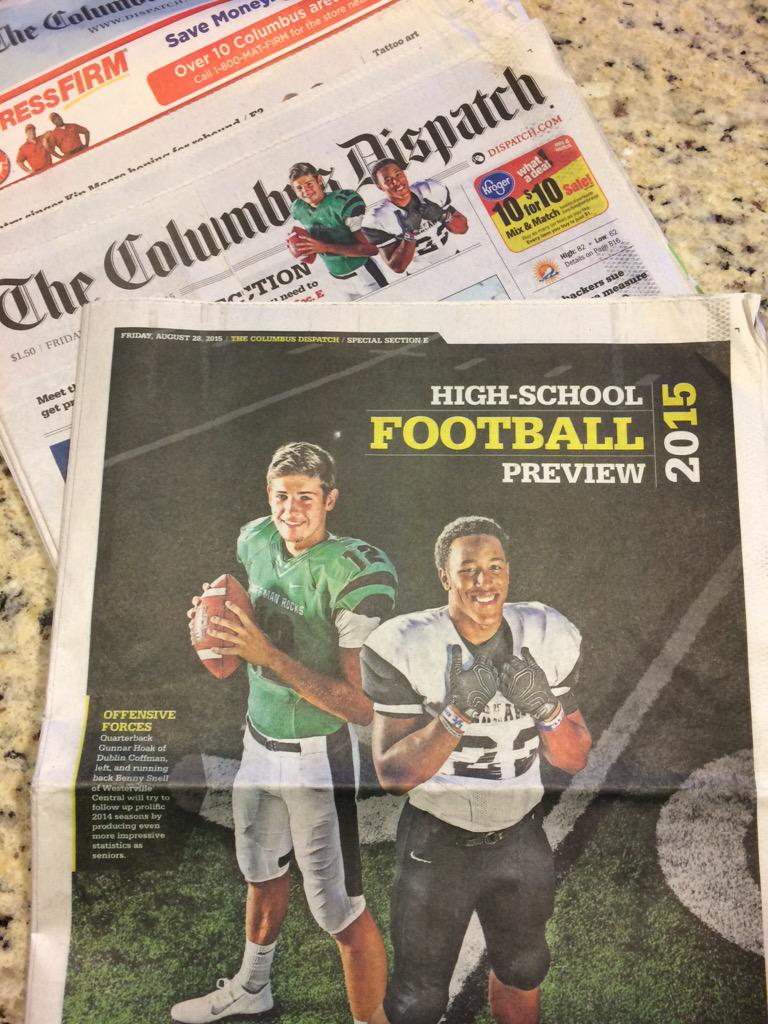 The paper did a feature on Snell, Hoak, Holtzclaw, and Jaylin Bannerman, all Ohio natives who committed to Kentucky.
"All of my favorite running backs I watch on TV seem to come from the SEC," Snell told the Dispatch. "To play in that league against those teams is really appealing. And the thing is, Kentucky is just down the road from home."
As you might expect, Benny had plenty of highlights his senior year:
He was named 1st Team All-Ohio in Division I (equivalent to 6A in Kentucky) after finishing with 1,826 rushing yards, 264 yards receiving and 29 touchdowns that season.
---
2016
January 1, 2016: Benny starts the year with a prophetic tweet
It's a new year #BBN MY TIME IS COMING VERY SOON pic.twitter.com/HH2v5trEaw

— Mr SNELL YA LATER?? (@benny_snell) January 1, 2016
February 3, 2016: Benny signs with Kentucky
"Benny is hard-nosed downhill runner," Stoops said on National Signing Day. "Being the Ohio Division I Player of the Year says a lot about his abilities. He can get the tough yards when we need them and he will compete for playing time as well."
May 2, 2016: Snell and AJ Rose combine for five touchdowns in the Ohio North-South game
"He's a good runner, and I'm glad to have him as a teammate because we're going to have a lot of fun in Lexington," Snell said of Rose to Matt Goul of Cleveland.com. "You know, we're weapons all around, so you can use us however you want to."
August 2016: Benny turns heads in camp
Benny made it clear during fall camp that Kentucky could not afford to redshirt him. He quickly moved up the rotation and was one of a handful of true freshman Stoops was confident would get playing time that year.
September 17, 2016: Benny has a monster debut
…That being said, we had to wait until game three vs. New Mexico State to see Benny, and what a debut. Benny had four touchdowns and 136 yards in his first game as a Wildcat, tying the UK record for the most rushing touchdowns in a single game.
"I was finally glad I got my opportunity, so I just made the most of it. It was amazing. Amazing," Snell said. "As soon as I got my chance, you know I just tried to go as hard as I could."
"I don't think I could love a player more than I love Benny Snell," Freddie Maggard said on the UK broadcast, adding later in his website recap, "Tough, determined, physical, and intense are appropriate descriptions for the rookie that resembled a Jerry Claiborne era running back. For the younger crowd, that's the highest possible compliment that I can bestow upon a UK RB."
September 25, 2016: Benny takes over vs. South Carolina
With the game tied in the fourth quarter, Benny did what Benny does: he took over. He literally carried the Cats to the win, running the ball on nine of the eleven plays that drive and chewing up over ten minutes of clock. He walked the ball in from the Wildcat to score the game-winning touchdown:
"I wanted them to keep feeding me," Benny said. "There's no doubt at all. Every time I look for the signal, I want them to give me the ball. It don't matter if we run it five times straight and the defense knows we're running the ball, I'm going to get every yard I can regardless."
November 6, 2016: Benny breaks Randall Cobb's record for most touchdowns by a freshman
Even early on, it was clear Benny was going to rewrite Kentucky Football's record book. His tenth touchdown of the season came vs. Georgia and broke Randall Cobb's record for the most touchdowns scored by a freshman (he would finish the season with 13).
Not surprisingly, Benny's rise led to the classic 2016 anthem "Benny and Badet":
Still waiting on the remake, aspiring musicians.
November 19, 2016: Benny crosses the 1,000-yard mark; breaks another record
Snell had 152 yards vs. Austin Peay, moving him to 1,006 on the season and giving Kentucky a pair of 1,000-yard rushers for the first time ever. Snell also passed Moe Williams for the most rushing yards by a freshman in school history that game. He finished the season with 1,091.
December 2016: Postseason accolades roll in
After the regular season was over, the honors started rolling in for Benny:
Football Writers Association of America (FWAA) Freshman All-American
True Freshman All-American by ESPN and 247Sports
Freshman All-SEC by the league coaches and Athlon Sports
Second-team All-SEC pick by ProFootballFocus.com
But he was just getting started.
Our good friend Steve Zahn joined Matt Jones on today's episode Hey Kentucky!
The two played a fun game of Game of Steves, which I found incredibly enjoyable and you will, too. It also made me miss Game of Thrones, which is also enjoyable but I'm convinced may never come out again.
You can watch the entire episode HERE. The one and only Big Mick is a meaty masterpiece in its own right. Composed of two quarter-pound patties* of never-fresh, frozen, mostly beef raised close to the processing plant. Only McDowell's has the frosted beef and processed cheese to give you a major reason for the afternoon trip to the secret bathroom only you and Debra know about on the 9th floor that is under construction.

---
You can be a part of McDowell's KSR Top 10 Tweets by using hashtags like #KSR #BBN or #KSRtop10. You can also nominate tweets by mentioning them with the hashtag. If we like what we see, it could be posted the next day.
If you are interested in sponsoring KSR's Top 10 Tweets, please contact us at Via Email.
#10 ItsMEEEE
Today's @KySportsRadio is cracking me up! I'm pretty sure it's in the playbook of what NOT to say as first time restaurant owners ? guys I'm in tears! Dirty grills, hair clumps , roches running by, ewww STOP! I want to respect you three in the morning lmao! #KSR

— ItsMEEEE (@iamMichia_B) September 25, 2018
At least he keeps it real?
#9 Ray J. Vaske
Seriously @NFL how is my dude @AMacGinnis8 not on one of your teams? The kickers on these teams are awful and A-MAC is money, everytime! #BBN #KSRtop10

— Ray J. Vaske (@outRAGEous02) September 25, 2018
Seriously, someone sign this man.
#8 Rick Maynard
Starting a petition to have Steve Zahn made permanent cohost of @hey_kentucky. Best episode ever. Make it happen, @KySportsRadio! #bbn

— Rick Maynard (@cheapshot89) September 25, 2018
We'll see what we can do.
#7 Lexington, KY
@benny_snell Contagious #BBN !! https://t.co/LXQOnotOAl

— Lexington,KY (@lexingtonkycom) September 25, 2018
The best video.
#6 Bo Zimmerman
Retweet if you are one of the true Kentucky football fans that had stuck with this team through the worst times #BBN

— Bo Zimmerman (@TheRealBoZimm) September 25, 2018
Retweet.
#5 Mark
The lack of @DrewFranklinKSR at @KSBarAndGrille makes me ?. Also, these wings kick ass!

— Mark (@GeekandDecay) September 25, 2018
Guess you'll just have to keep going back!
#4 marsha poe
We [email protected] @ryanlemond @DrewFranklinKSR pic.twitter.com/eyvsI2IFTK

— marsha poe (@poeklm) September 25, 2018
It takes a real fan to sit outside on a day like today.
#3 Jasper Chance
If @benny_snell wins heisman I will cut off my hair #BBN #UK

— Jasper Chance (@JasperGotClout_) September 25, 2018
Someone hold him to this.
#2 Ray J. Vaske
@KSBarAndGrille effect? They scurred & trying to keep up!!!#KSRtop10 https://t.co/ektKHmXwGR

— Ray J. Vaske (@outRAGEous02) September 25, 2018
It's gotta be!
#1 Alex Richardson
Finally got my @UKFootball posters added to my desk at work. #bbn #GetUp @KySportsRadio @ryanlemond @DrewFranklinKSR @UKPlayerDevelop @benny_snell @KashDaniel15 pic.twitter.com/mq1EKaP2tx

— Alex Richardson (@arich13uk) September 25, 2018
Well that's awesome.
---